THE GREAT FINALE OF THE EPOPEIA OF THE 1st POLISH ARMOURED DIVISION. POLISH FLAG ABOVE THE TOWN HALL AND WILHELMSHAVEN HOUSES. General Anders and General Simonds salute General Maczek's division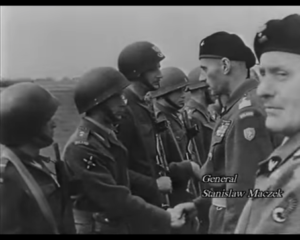 On the first anniversary of the battle, the winner from Monte Cassino, acting as the Commander-in-Chief of Polish Armed Force in the West, General Władysław Anders, came on an official visit to the conqueror of Wilhelmshaven, General Stanisław Maczek.
---
The city and the naval base of the German Kriegsmarine welcomed him with countless Polish white and red flags, hung on the town hall and the surviving buildings, sewn by obedient residents on the orders of the Polish occupation command.
After the victory parade on Bismarckstrasse, the main avenue of Wilhelmshaven, decorated with Polish flags, there was an inspection of the destroyed military area. Then a Mass was held at the Upjever military airport in memory of the fallen soldiers and the decoration of Polish and Canadian soldiers by General Anders and General Simonds, commander of the 2nd Canadian Corps, in whose structures the 1st Armored Division fought.
This is how the local chronicler described the event:
"A great day for Poles; at the water tower military parade received by the Polish command. The city's population had to sweep the streets, remove all obstacles remaining after anti-tank barriers, tide up gardens and parks … After three o'clock in the afternoon no one had the right to be on the street. On the water tower, before which a military parade took place, a Polish flag was fluttering, and at the height of half of the building there was a Polish coat of arms. "
And so General Maczek recalled:
"The disciplined German population of the city was ordered to sew white and red flags and decorations with Polish eagles as if they were sewing German-colored flags with a swastika for the event of welcoming Hitler. And on May 19, while General Anders were taking reports from the division's units, the main avenue of the city of Wilhelmshaven shimmered with kilometers of red and white Polish flags on the 8-meter high masts.
This chord ends the epopeia of the 1st Polish Armoured Division. "
---
On August 1, 1944, at the time of entry into battle, the 1st Polish Armoured Division numbered 15,210 privatesl and 885 officers, had 473 guns and 4,431 vehicles, including 381 tanks – mainly American Shermans and Stuarts,as well as English Cromwells.
On May 6, 1945, after 283 days of fighting, the division of General Stanisław Maczek completed a 1,800-kilometer long combat route, liberating over 200 towns in France, Belgium and the Netherlands, and capturing several cities in Germany.
During the campaign, over 52,000 Wehrmacht soldiers got into Polish captivity, including about 33,000 in Wilhelmshaven.
Total own losses amounted to 969 killed, 3320 wounded and 300 missing.
---
Read also: "General Maczek's Dream"
---