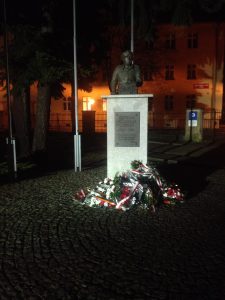 On the 11th of December 2017 in Żagań took place an official ceremony of unveiling the board dedicated to Lieutenant-General Stanisław Maczek.
Among participants were general Stanisław Czosnek – commander of the 11th Armoured Division, general Bortnowski, senator Kaczorowska and Jerzy Samborski. The present group listened to elevated sermon of Priest Colonel Radosław Michnowski.
What is more – a decision was taken to organize a Great Rally of general Maczek Fans in 2020 in Żagań!
Gallery: Unveiling of the commemorative board dedicated to general Maczek – 11/12/2017, Żagań