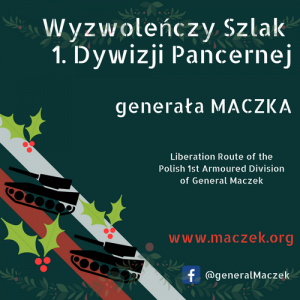 On the 5th December 2017, President Andrzej Duda, giving a speech to members of parliament and the senate of the National Assembly, has inaugurated celebrations of the hundredth anniversary of Polish independence.
The celebrations will be a great and sublime event in the life of our nation; it will consist of many ceremonies, international, central and local, bringing to memory both those historical moments, which are connected to the birth of the Polish nation, as well as those which decided of maintaining its independence.
In the celebrations of the centenary particularly fits in a heroic, soldier legend of general Stanisław Maczek, which begins at dawn of fights for independence of the Polish nation in 1914 and ends with his death 11 December 1994, year after Russian army withdrew from Poland.
General Maczek is a commander undefeated – did not lose any battle neither in the Polish-Ukrainian war, in the Polish-Russian war, in the defensive war of 1939, nor in the French campaign of 1940.
For the inhabitants of over 100 towns and villages of France, Belgium and the Netherlands he became a hero-liberator, who in the campaign of 1944, from Arromanches, through Antwerp to Winschoten, in the lead of the 1st Armoured Division, fought off from the northern Europe German oppressors.
For the humiliated Germans general Maczek will remain who received capitulation of Wilhelmshaven, main war base of Kriegsmarine, and whose army, as the only one from the Polish Armed Forces, occupied until 1947 Western territories of Germany.
The program "Liberation Route of the 1st Armoured Division of gen. Maczek", started in September 2017 in the Canadian-Polish Museum in Adegem, gaining more and more supporters and partners, actively joins the celebrations of centenary of the Polish independence. Our multithreaded, long-lasting project we will realize in cooperation with Polish and foreign diplomatic posts, army units, veteran associations, schools, churches, skauts and all the fans of general Maczek. Creatively we will be joined by TV Polonia, radio and media printed and online, as well as Polish and foreign sponsors.
In the plans for 2018 the main event will be International Memorial Rally of General Maczek in Adegem, on 7-9 September 2018; of the details will be informing on our website and on Facebook.
On the occasion of the upcoming Christmas Holidays and the New Year I wish to all Fans of Maczek and his 1st Armoured Division all the best.
Jerzy Samborski
Author and Leader of the program