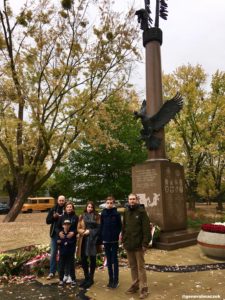 On 20th October 2018, right after midnight, at the Warsaw Chopin Airport the plane from Brussels Charleroi has landed. That was a plane with our winner contestants, ready for their unforgettable weekend in the capital of Poland.
As the winners of contest about 1st Polish Armored Division and General Maczek they couldn't miss the places related to it. On their first day they went to see the 1st Polish Armored Division Monument (by the Inwalidów Square) and next day they gave interviews to TVP Polonia, just right on the 1st Polish Armored Division Squre (by the Vistula River).
Durning those two days they visited the most popular places in Warsaw, such as Observation Deck at the 30th floor of the Palace of Culture & Science, the Warsaw Uprising Museum or the Kopernik Science Centre. They also went for a walk around the Old Town and saw the Tomb of Unknown Soldier. They tasted the traditional Polish food and experienced the beauty of Polish autumn…
No one can describe this city-trip better than our winners themselves. Have a read of some short personal reports written by them:
---
📸 Gallery: "Who liberated this town?" contest winners visit in Warsaw, 20-22/10/2018
The next edition of the contest coming next year!
---